Kauai Vacation Rentals Don't Get Much Better Than This!
TVNC-1279 ● TVNC-5132 ● Kauai Real Estate License RS-50620
Meticulously Maintained Homes and Grounds
Ultra Peaceful, Private, Romantic, Relaxing, &  Rejuvenating
The Lush Grounds of River Estate
River Estate suffered no property damage in the April 2018 floods and the area is now fully open to the public. Although there are new changes to Haena State Park concerning access and parking the overall changes make for a much nicer experience than prior to April 2018. You'll find Kauai has changed to a more sustainable tourism mode and that has directly affected the area near River Estate in very positive ways. Kauai once again is showing the world its innovative spirit and River Estate is right in the middle of the area leading the changes. The north shore beaches have regained their pristine qualities and have fewer people using them than prior to April 2018 and the Kalalau trail is uncrowded and in perfect shape.
Peace, privacy and comfort is what you'll find here at River Estate. Staying here just might be one of the finest vacation experiences you'll ever have. The idyllic riverfront gardens are perfectly complimented by the two charming homes that nestle themselves along the gently flowing river just up from the beach in one of Kauai's prime locations. Right here in the middle of the Kauai's North Shore with easy access to everything yet removed and completely private. We offer our guests an experience so special a lot of our guests comment that they either don't want to leave or are very sad to! Some of our repeat visitors just can't get enough it seems.
Permits TVNC5132 * TVNC1279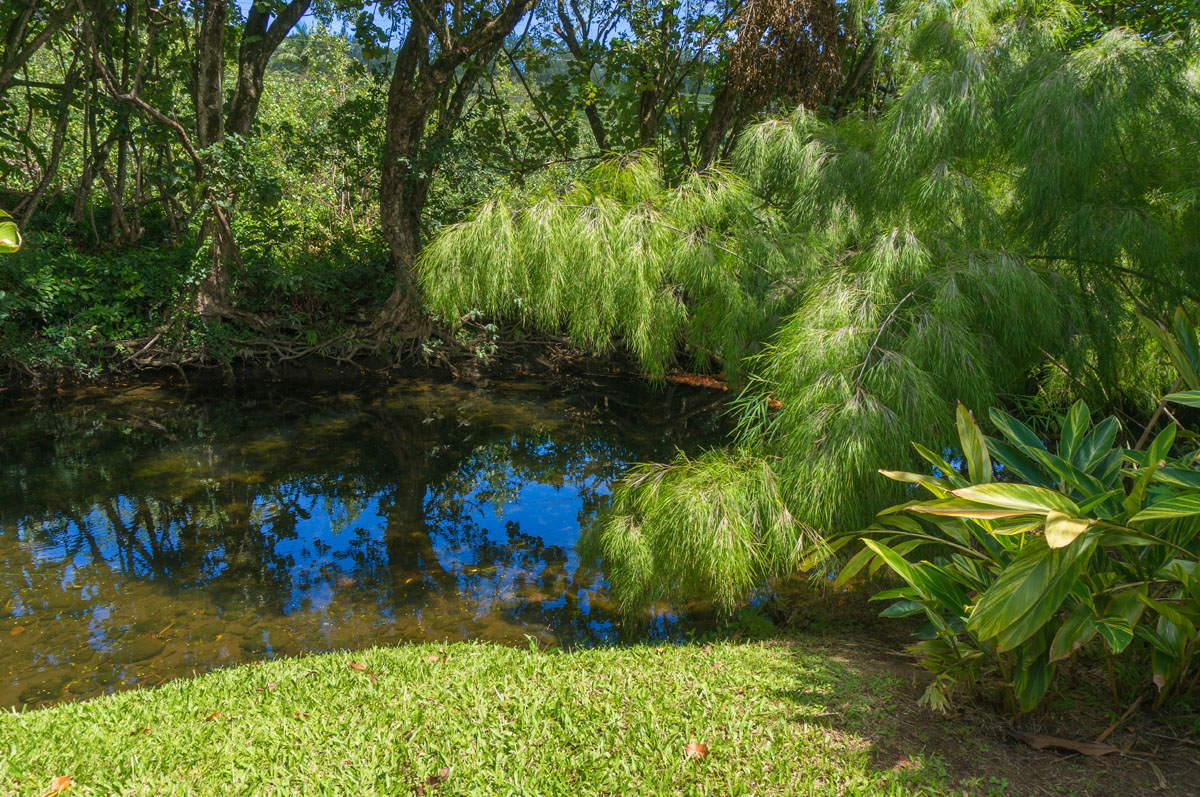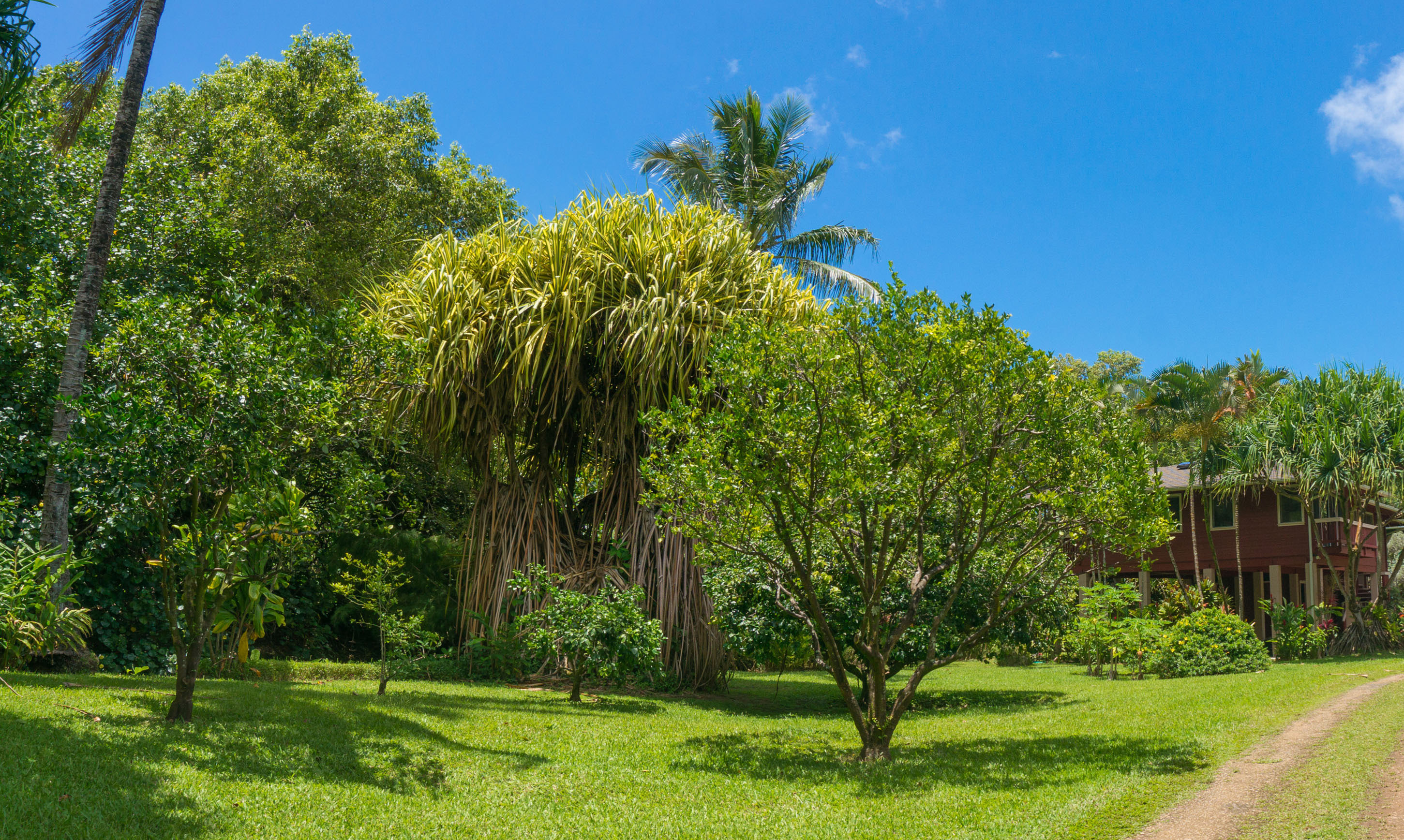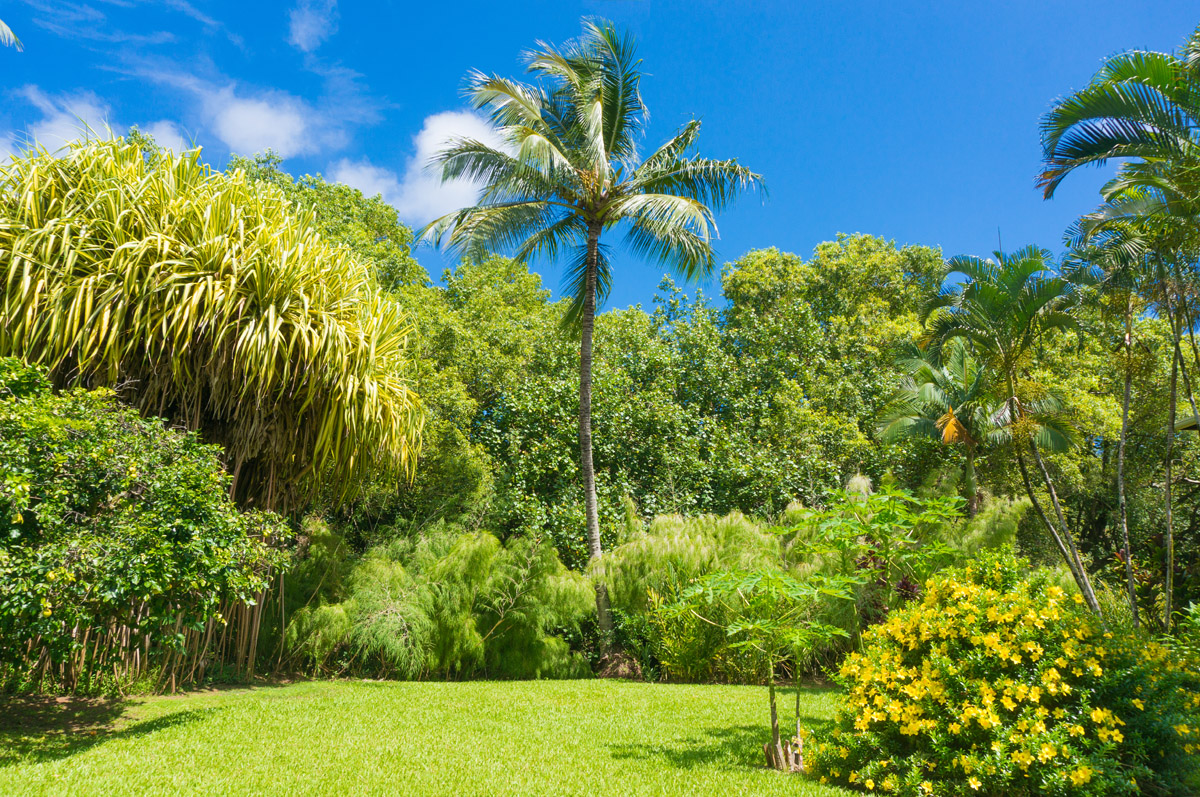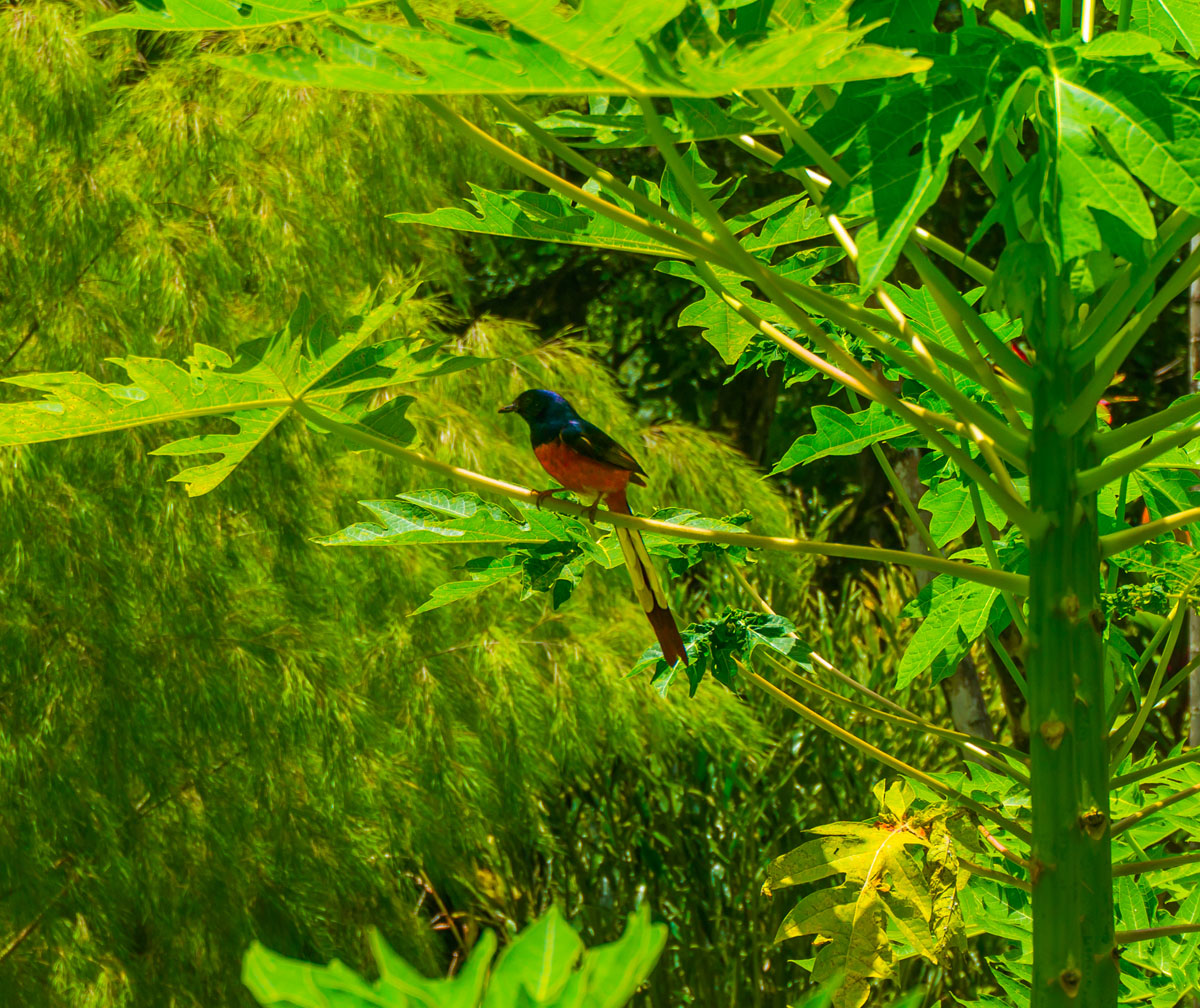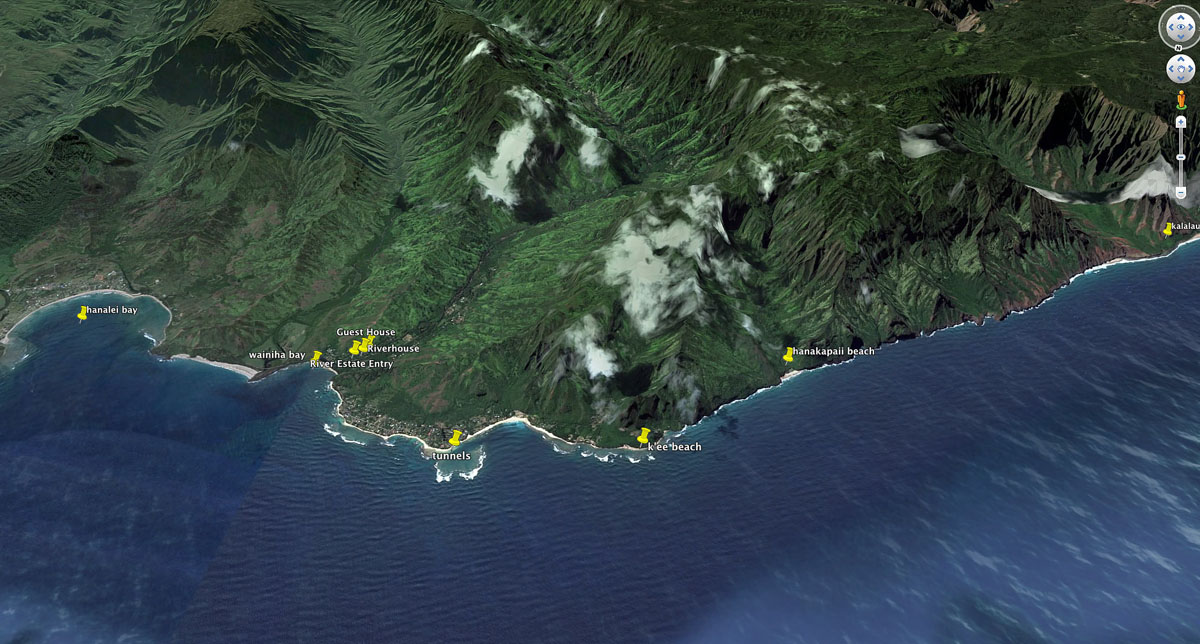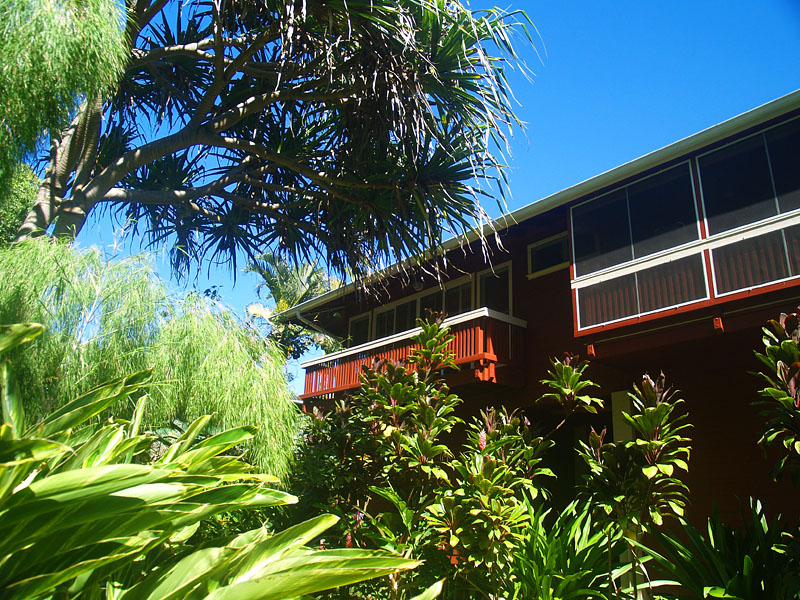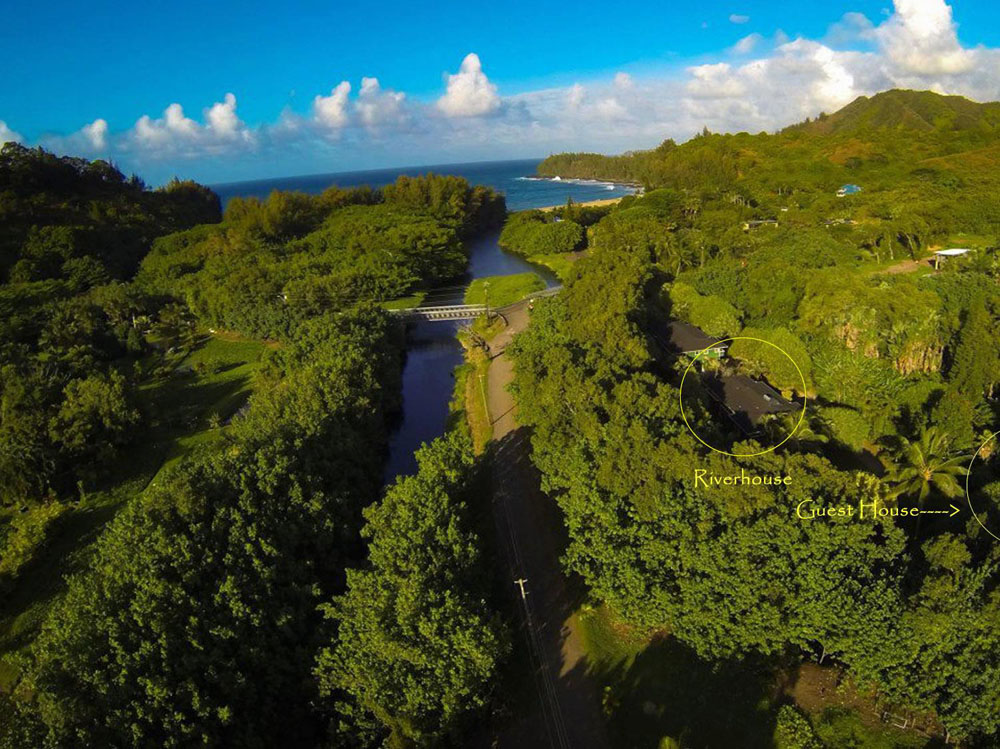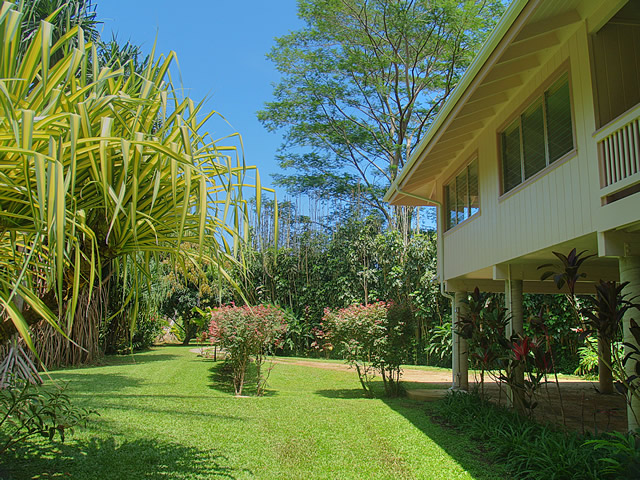 Recent Online Review
(VRBO) *
Paradise on the North Shore of Kauai * We're frequent visitors to Kauai and the Big Island, always looking for homes that are located just off the beaten path, that embody Hawaiian traditions, and that are comfortable and cared for. Mark's property is all of this, and more. The location simply couldn't be better — far enough from Hanalei and Princeville so that you feel that you are not part of the tourist mania, but not so far that stores, restaurants, and perfect beaches are not within an easy trip.
The river location is secluded, lush, and immediately makes you feel like you are in the kind of paradise that has become almost extinct in Hawaii.
Read More
And the houses and entire property are so well thought out that you are immediately comfortable, and know that you essentially need nothing except your own aloha. We're a family of 4, with two kids ages 12 and 14. Everybody felt welcome — grown-ups and kids. We stayed in the Guest House. It had a lovely porch/lanai, a great TV and music system, reliable and fast wi-fi, new appliances and laundry, plus a very well-equipped kitchen. The place was spotless, and the owner was graciously and instantly responsive to any questions and requests, without being the slightest bit intrusive.
It's a 5 minute drive to the end of the road and one of the most challenging and thrilling hikes in the world along the Na Pali coast. It's a 2-minute walk to the end of the driveway, and the walk-up window of the quite amazing Sushi Girl poke and sushi stand. And, it's 5 minutes to Hanalei, 12 to Princeville, and 15 minutes to the remarkable swimming and snorkeling at the Queen's Bath and Anini Beach. The entire experience — location, accommodations, and owner — define both hospitality and "Aloha."
The Irvine Family, Los Gatos, Ca.
A personal message to my potential guests….
"I have lived on Kauai for 45 years now, owned and managed River Estate for the past 18 of them. I provide complimentary concierge services to all my guests from the moment they book until they leave. Please feel free to ask me about all Kauai has to offer and let me help you make the most of your vacation time here."
River Estate has been in business since 1995. We created one of the very the first online vacation rental websites here on Kauai and have been on VRBO since 1996. Our VRBO listing number is #249 out of over a million! We're not going to be going anywhere. Come visit us and find out what old Hawaii feels like…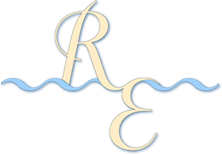 River Estate's Two Homes
Both Homes Feature:
Split System Air Conditioning in each home.
Top Quality Accommodations. Affordably Priced
A Completely Unique Central North Kauai Location
Tastefully Furnished Homes. Quality Furniture
A Romantic and Spiritually Rejuvenating Experience
Ultra Privacy in a Completely Unique Natural Setting
Two Acres of Pristine Riverfront Botanical Gardens
Comfortable Living Spaces With Many Deluxe Amenities

Allergy Free Zones. No Mold or Mildew Inside or Out
Very Close to World Famous Beaches and Landmarks
Float to Beach and Back From the Property EasilyFully Equipped Large Kitchens With New Appliances
In-House Travel Agency. Multi Island Vacation Packages
Complimentary Beach Gear and Quality Beach Towels
Hotel Grade Bath Towels, Hand Towels, Wash Cloths
Quality Bedding, Mattresses. High Thread Count Sheets
Tile or Chinese Slate Floors in Kitchen and Bathrooms

Well Ventilated Homes Naturally Cooled By the Trade Winds
Flat Panel TVs, DVD Players, Cd Players With iPod Docks
Large Master Bedroom Suites with Flat Panel TV's
Free Long Distance, WiFi Internet, Wireless Phones
Large Collection of DVD's and CD's in each Home
Washer/Dryer, Gas BBQ, Quality Lanai Furniture
Selection of Kauai Guidebooks and Books on Hawaii
On Site Staff and Owner Available 24/7 to Assist You
The Guest House
The Guest House is our honeymooner's paradise. The home sits at the upper end of the estate tucked around a corner all by itself on the river. You'll feel alone here with only the sound of the river gently flowing over river stones, the exotic birds and the sound of the wind blowing through the bamboo across the river. This house is perfect for honeymooners and people looking for the special spot to relax without the distractions of the "real" world beyond the River Estate entry. The experience will relax and revitalize you in a tropical paradise.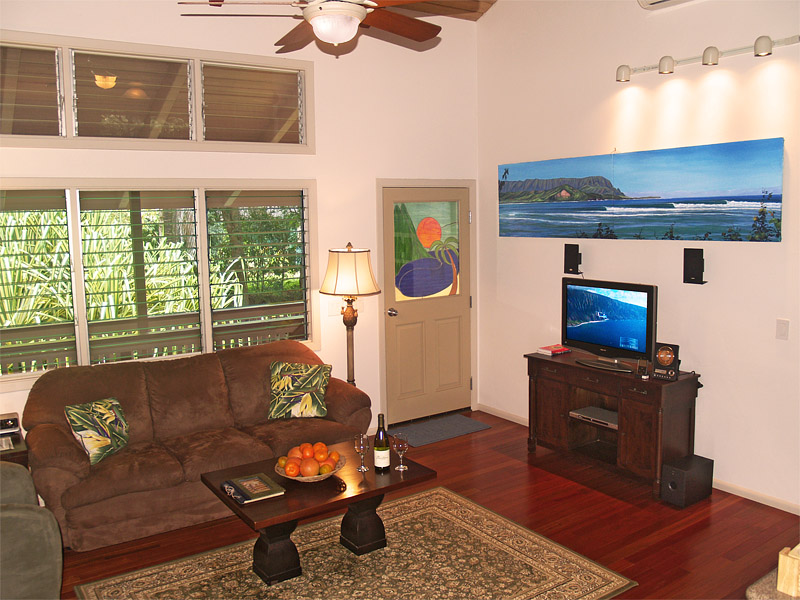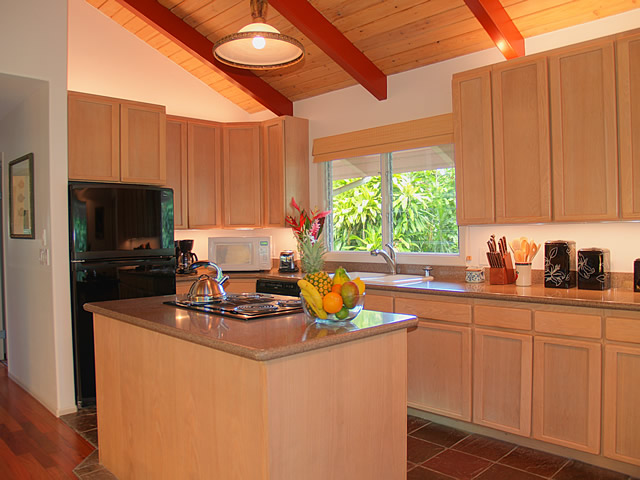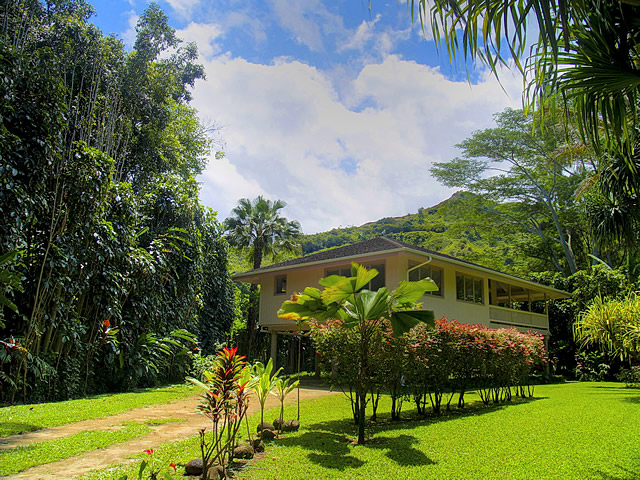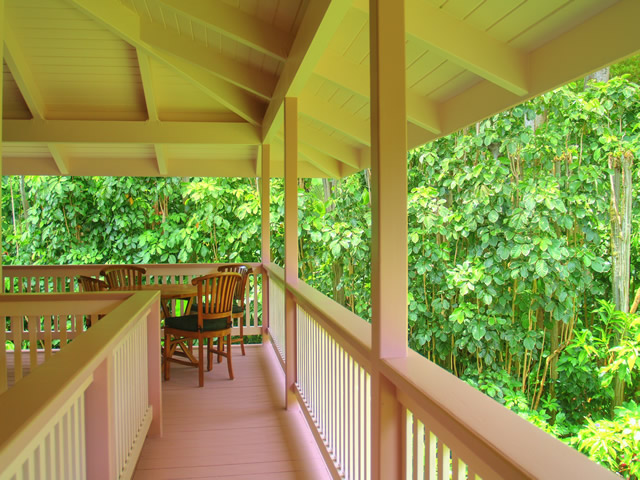 Extremely Private Location on the Estate
Intimate Comfortable Relaxing Rejuvenating
Chinese Slate Floors in Kitchen and Bath
Custom Quality Balinese Furniture and Art
Large Master Suite Overlooks the River
Tiled Tub/Shower Enclosure in Master Suite
Deluxe Tile Shower in Second Bathroom
Large Open Covered Lanai With Stream View
Sound of River Flowing over Shallow Stones
Dimmable Lighting. Open Beamed Ceiling.
Two Bedroom. Two Bathrooms.
$325 Per Night For up to 4 Guests
*Plus Taxes and Fees
More Booking & Rate Information
The Riverhouse
The Riverhouse is uniquely eclectic. Quality furnishings and art give the home it's character. From the late 1800's dining table and hutch to the new Tommy Bahama living room set to the genuine 30's Hawaiian art it all blends to create a completely unique experience for our guests. Are you looking for peace and quiet? Is comfort important to you? How about privacy? You'll find all those things here. Cook meals in and relax on the covered lanai with friends. Enjoy the hot tub after a long day exploring the island. Paddle down to the beach and back!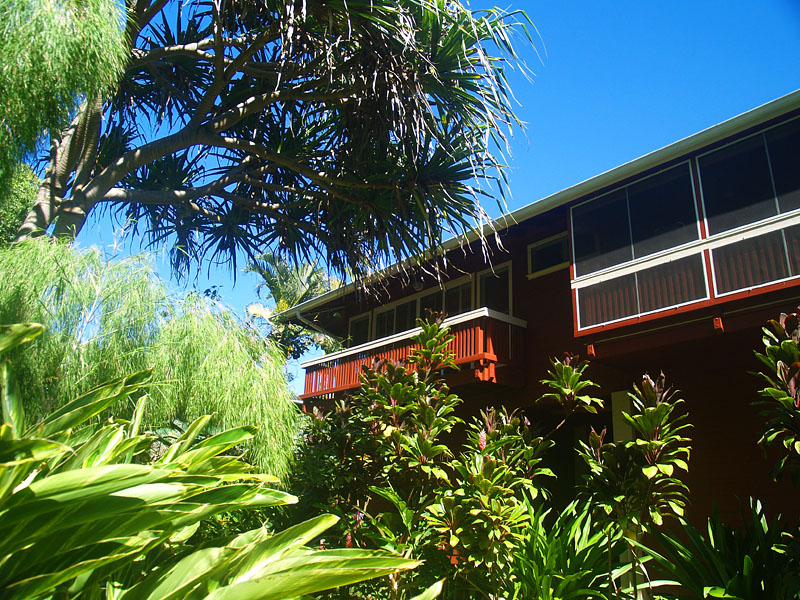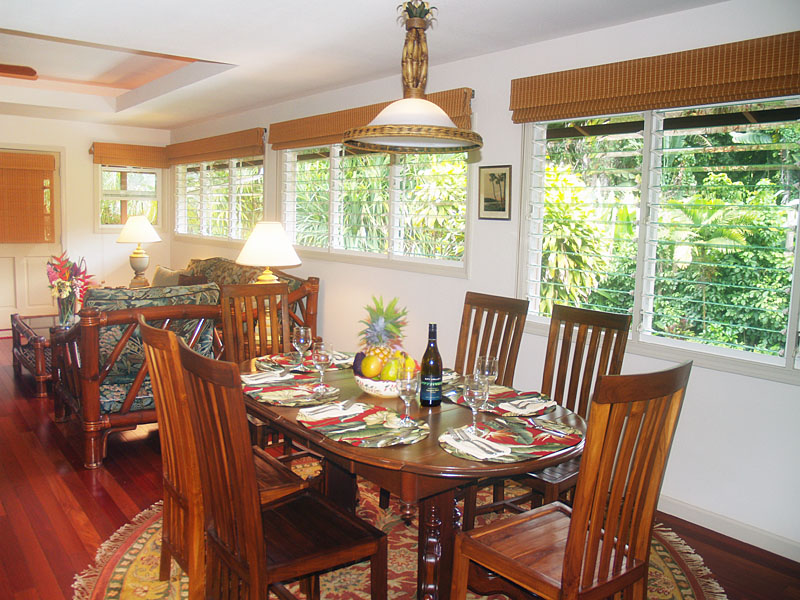 Top Quality Contemporary Tommy Bahama Furnishings
Dimmable Soffit, Recessed and and Lamp Lighting
Fine Vintage Solid Wood Furniture from the 30's and 40's
Authentic Vintage Hawaiiana From The 1930's to 50's
Authentic Hawaiian Themed Fine Art and Collectors Pieces
Quality Persian Rugs in Each Bedroom and Dining Room
Riverside dining on the Screened Main Lanai
Separate Lanais For Each Bedroom.
Chinese Textured Tile floors in Kitchen and Bath Areas
Large Master Suite with Flat Screen TV and Walk in Closet
Three Bedrooms. Two Bathrooms.
$350 Per Night For up to 6 Guests
*Plus Taxes and Fees
More Booking & Rate Information
Featured in Many Publications, Highly Rated
River Estate was featured in Lonely Planet staff writer Andy Murdock's Valentines Day article "12 Romantic Getaways across the US"(#10 Romance for Island Lovers) Which was published on the Lonely Planet website. River Estate was also named one of Hawaii's top ten romantic hotels by Gayot.com in 2011. The Gayot Travel Guide to the good life was first published in 1961 by Andre Gayot. We were also featured in National Geographic Adventure Magazine in Feb.2006, as well as Fodor's and the Lonely Planet printed Kauai travel guides. River Estate also has wonderful reviews on TripAdvisor, VRBO, Yahoo Travel, Virtual Tourist and FlipKey from some of our past guests.
Prime Location
River Estate offers quality accommodations that are meticulously maintained and very user friendly. The homes are eclectic, comfortable and above all extremely peaceful and private. Our prime location is central to all the great North Kauai attractions. The whole area from Hanalei town, with it's restaurants and shopping, to Ke'e beach and the Napali Coast trail at the end of the road, and all the beaches and activities between them, is within a 10 minute drive in either direction of the property.
Current Specials and Discounts
Guest House
Discounts when booked within 30 days of arrival.
Riverhouse
Discounts when booked within 30 days of arrival.
Our Location – Ideally Central to Kauai's North Shore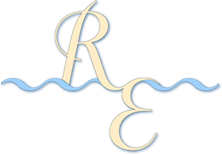 VRBO #249 + 957015 AirBnb #19179473 + 19247746
TVR Permit Numbers: TVNC-5132 * TVNC-1279
Hawaii State Tax ID: W-30347586-02
Copyright © 1995-2020 River Estate Kauai All Rights Reserved