We are dedicated to the safety of our staff and guests during this pandemic. We have implemented additional cleaning and disinfecting protocols and guest service practices according to new industry standards. Please visit Kauai with Aloha and respect for the community. We are doing the same for you.
As of MARCH 4, 2020 In alignment with public health recommendations, the River Estate is taking measures to prevent community spread of COVID-19, which includes undertaking enhanced cleaning and disinfection procedures. The Environmental Health & Safety Department (EH&S) developed enhanced cleaning and disinfection procedures to follow during the COVID-19 public health situation. We follow all CDC guidelines for enhanced cleaning between guests. On Kauai, social distancing, hand washing and wearing of face masks are required when out in public, in all stores and when going in and leaving restaurants and bars.
General cleaning practices for all guest areas. Your suite will be cleaned,sanitized/disinfected and rechecked by management prior to arrival. (Using protocols established by the Hotel Industry and Air B&B guidelines).
Frequently touched surfaces such as, not limited to • Doorknobs and handles • Light switches / plugs • Remote controls • Tables • Fans • Lamps and clocks • Window parts and coverings • Keys, safes• Railings • Garbage cans and recycling bins • Sinks • Appliances • Kitchenware • all furniture • Toilets • Showers and tubs • Shower curtain change • hangers • Hair dryer • Vacuum, etc. will all be cleaned or washed as appropriate and disinfected.

Check in time is from 3PM, Checkout no later than 10AM. We are not able to offer any exceptions.

Guests are welcome to contract us at any time for any reason on the phone numbers and email addresses provided.
Cleaning supplies and disinfectant will be in the house for your use.
Beach chairs will be left downstairs for use during your stay.
Mid-stay housekeeping services are suspended at this time.
River Estate Kauai, Hawaii
Don't Get Much Better Than This!
Meticulously Maintained Homes and Grounds
Ultra Peaceful, Private, Romantic, Relaxing, & Rejuvenating
River Estate offers quality Kauai Vacation Rentals that are meticulously maintained and very user friendly. The homes are eclectic, comfortable and above all extremely peaceful and private. Our prime location is central to all the great North Kauai attractions. The whole area from Hanalei town, with its restaurants and shopping, to Ke'e beach and the Napali Coast trail at the end of the road, and all the beaches and activities between them, is within a 10 minute drive in either direction of the property.
TVR Operating Permits TVNC5132 * TVNC1279 * Hawaii State Tax ID. TV-052-031-4880-01

This property is located in a Tsunami Evacuation Area. Evacuation procedures provided.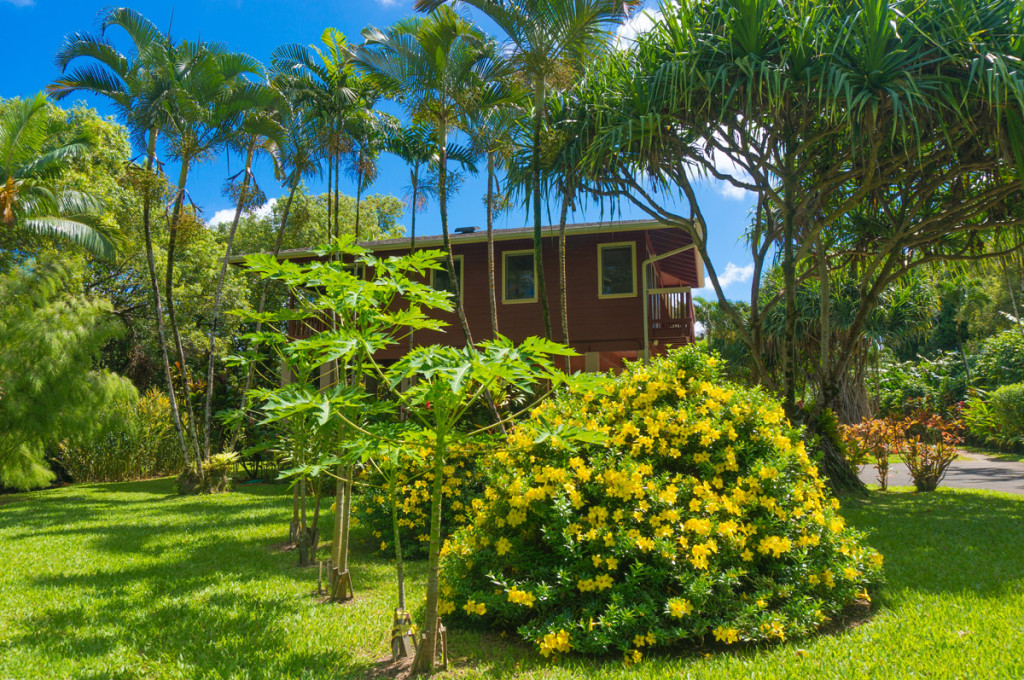 River Estate suffered no property damage in the April 2018 floods and the area is now fully open to the public. Although there are new changes to Haena State Park concerning access and parking the overall changes make for a much nicer experience than prior to April 2018. You'll find Kauai has changed to a more sustainable tourism mode and that has directly affected the area near River Estate in very positive ways. Kauai once again is showing the world its innovative spirit and River Estate is right in the middle of the area leading the changes. The north shore beaches have regained their pristine qualities and have fewer people using them than prior to April 2018 and the Kalalau trail is uncrowded and in perfect shape.
Permits TVNC5132 * TVNC1279
Both

River Estate Homes

Feature
The Guest House sleeps a total of 4 people in luxurious privacy and is our honeymooner's paradise. The home sits at the upper end of the estate tucked around a corner all by itself on the river. You'll feel alone here with only the sound of the river gently flowing over river stones, the exotic birds and the sound of the wind blowing through the bamboo across the river. This house is perfect for honeymooners and people looking for the special spot to relax without the distractions of the "real" world beyond the River Estate entry. The experience will relax and revitalize you in a tropical paradise.
The 2023 Rate is $425 Per Night for up to 4 Guests
The 2023 Holiday Rate is $475 Per Night for up to 4 Guests
Plus taxes & fees.

See Our Policies Page for the 2024 Rates.
The Riverhouse sleeps a total of 6 people in clean comfortable surroundings. Top Quality Tommy Bahama furnishings and 30's art give the home its character. From the late 1800's dining table and hutch to the new Tommy Bahama living room set to the genuine 30's Hawaiian art it all blends to create a completely unique experience for our guests. Are you looking for peace and quiet? Is comfort important to you? How about privacy? You'll find all those things here. Cook meals in and relax on the covered lanai with friends. Paddle down to the beach and back!
2023 Rate is $475 Per Night For up to 6 Guests.
2023 Holiday Rate is $500 Per Night For up to 6 Guests.

Plus taxes & fees.


See The Policies Page for 2024 Rates
What People Are Saying About
River Estate was featured in Lonely Planet staff writer Andy Murdock's Valentines Day article "12 Romantic Getaways across the US" (#10 Romance for Island Lovers) Which was published on the Lonely Planet website. River Estate Kauai Vacation Rentals were also named one of Hawaii's top ten romantic hotels by Gayot.com in 2011. The Gayot Travel Guide to the good life was first published in 1961 by Andre Gayot. These unique Kauai Vacation Rentals were also featured in National Geographic Adventure Magazine in Feb.2006, as well as Fodor's and the Lonely Planet printed Kauai travel guides. River Estate also has wonderful reviews on TripAdvisor, VRBO, Yahoo Travel, Virtual Tourist and FlipKey from some of our past guests.
Paradise on the North Shore of Kauai * We're frequent visitors to Kauai and the Big Island, always looking for homes that are located just off the beaten path, that embody Hawaiian traditions, and that are comfortable and cared for. Mark's property is all of this, and more. The location simply couldn't be better — far enough from Hanalei and Princeville so that you feel that you are not part of the tourist mania, but not so far that stores, restaurants, and perfect beaches are not within an easy trip. The river location is secluded, lush, and immediately makes you feel like you are in the kind of paradise that has become almost extinct in Hawaii.
Riverhouse – We loved being away from the towns and traffic and this area is just that. Very easy to find and loved the adventure from the airport to River Estate. Everything was ready upon our arrival and we were so happy we chose this rental. Photos are exactly what you will experience at the home. The Guest House is just around the bend, only a few yards but completely out of sight. You hear the river flowing at this house, but we didn't from our home. We could see the river quite well from inside the house. Mosquito's are present, so we were thankful for the window screens and screened in lanai. It was never too warm indoors and only used the a/c in the bedroom for a little while when we retired. This home is meticulously clean and it is hard to see any (even normal) wear/tear on anything whether indoors or out. Mark really knows how to maintain a vacation rental home. We took extra measures to care for it. Not because we felt the need to, we always take good care of rentals but also out of respect for Mark and future guests. I want all of you to experience this home just as we did. Great mattress in the master! We did not use the other two bedrooms. If you cannot reserve River Estate, I recommend the area anyway if you want the river, beach and mountainous area. Very lush and natural surroundings. People here are are so kind and friendly. Everything you need and almost all of your wants are within a few miles of Wainiha and the close by community of Hanalei.
Riverhouse – Fifteen years ago my husband and I, after a long time together, decided to get married. We were living in California at the time and were frequent visitors to Kauai. We had seen River Estate many times on our travels and always said "If we ever get married it should be here". So one day after our engagement I called Mark at River Estate, I told him about my plan to rent the entire property (There were 3 homes then) and having my wedding on the property. I have family from the east coast and my husband from Illinois. So people were coming from everywhere. We had some elderly people that couldn't make a beach wedding so we thought the grounds of the estate would be better! So Mark and I worked literally for over a year. He let me put a deposit to hold the dates and Make payments! He told me about the local post office and how I should send all the decorations instead of flying with them. He even picked up my packages for me!!! We decorated the estate and had a little luau for our reception. Words can't describe the magic of our day. Mark even came to my wedding. I never had anyone except for family and friends help me so much from so far away. He did this out of kindness. That's the type of person Mark is.That was 15 years ago this June. We are coming back in October to renew our vows with our children. A lot has happened in 15 years ago and I contacted Mark just last week to see what was available for our week. He is just as amazing now as he was then. Sooo here we go again! I can't wait. Mahalo Mark. See you soon!!!
Riverhouse – The four of us had a terrific time. River Estate is a very special property and the Riverhouse was exactly what we needed. Two couples each with their own wing and a common area in between them. Perfect! Wonderful location too. Close to Ke'e and Hanalei and walkable to Sushi Girl down at the store. We had terrific weather. Loved the frogs and night sounds. We will be back no doubt about it. Bobby and Bruce Esmark, Oregon (4/6/2015) Riverhouse – Thank you for such a lovely home to open our vacation with. We enjoyed the water pressure and the kitchen was great. The beds were comfortable. The island was fantastic and we really enjoyed our vacation.
♥ Riverhouse – Aloha Mark – Thanks so much for letting us stay in this wonderful house! It was way more than we imagined…When we go places we always look forward to coming home to a nice comfortable home.In Kauai for our second (not our last) time we are lucky to get a nice house like this. This has been our favorite. Trying our hardest to keep this house nice was our intention. I hope it worked.
Riverhouse – Thanks so much for the lovely home! We really enjoyed the Riverhouse and wish we could stay forever. I especially liked how the kitchen was stocked with everything a cook could ever want – even a grill on the lanai. The bed was super comfy and the shower pressure was ultra nice. My wife loves the Tommy Bahama furniture. She now wants to get the same for our house back home. Mahakos for the memories.
Guest House – I hesitate to write this review because I want this place all to myself. I keep looking at the calendar and its gets booked way in advance. My wife and I stayed in both houses during our ten day stay, and they had to call the police to drag us away because we didn't want to leave…just kidding, but you get the picture. Both houses were immaculate, comfortable, air conditioned, and set up so that we never had any problems with mosquitos etc. which you will encounter outside at night sometimes (its a jungle folks, so…) The river house is a little bigger, and has the spa. The guesthouse master bedroom has an incredible view that will blow your mind. Our concierge, Mark, was super cool, hooked us up with everything we needed, and his warmth and sense of humor really made us feel at home. Speaking of which, the river house is MY home away from home, so just because I'm writing this review doesn't mean you should book it…you might end up taking a week that I wanted and that would make me grumpy.
Guest House – From Nico age 7 – Aloha Mark, Thank you for letting us stay in your wonderful hose. I love the paintings and the bedroom. It is just what I loved and I just want to stay at your wonderful hose for ever and holidays.We also knew that you live in a beautiful place Kaua'i that has a lot of activities. and I love the trees you planted for mother nature mahalo!!!
Guest House – Dear Mark and Future Guests, We are extremely fortunate to have had the chance to enjoy the magic of Kauai's North shore and to live along the Wainiha river for a spell. This house has been quite a comfort for Beth and I during our here on Kauai. Playing all day and cooking/relaxing all night. This place is so special and we are blessed to share our 5 year anniversary here! All the best…Cheers!
Ideally Central to Kauai's North Shore